'Moko kahan dhoonde re bande, main tho tere paas re' or "Where do you search for me, I am always close to you" sings Kabir.
Unfortunately, the stresses of daily living and the frustrations of hopes belied and expectations not met give the lie to this claim. I tend to agree with Osho when he says, " The old man has been a worshipper of dead Gods in temples and mosques and synagogues … the new man is one who denies God but will instead find his living God in the trees, in the birds, in the rivers, in the oceans, in the mountains, and in the stars…".
The insistent pull of the mystical and the divine demands to be heard…and this time we decided to heed the call by applying for the Kailash Manasarovar Yatra organised by the Ministry of External Affairs. The lucky draw proved how unlucky we were …… we were put on the waiting list for Batch 17 scheduled to start from 12 Aug in Delhi. It was subsequently confirmed after several dropouts as rains continued to lash the Kumaon Hills through which the Yatra is held. We accordingly reported to Delhi for the medical tests. Here for the first time, we met up with our co pilgrims at the Gujarati Samaj Seva Kendra (GSS) where we were put up in a dormitory with shared bathrooms. It was back to community living after several decades. We soon got to know each other despite the barriers of language and region. As expected Gujaratis were in the majority… nearly seven of them who bonded together instantaneously. Gradually though new bonds were forged. Bharati Ben from Baroda who occupied the bed next to me separated only by the common steel frame of the bunker bed, was a fighter who had lost her father at a young age and had been forced to take on the mantle of provider. She had chosen to stay unmarried. There were four young strapping Malayalees and surprisingly the Tamilians this time outnumbered them.
The medical tests at the Delhi Heart and Lung Institute were fairly stringent, so much so that four pilgrims were forced to drop out. Murali and Mythili a couple from Chennai were lucky to scrape through despite initial high BP and were brave enough to take the vital decision to go ahead with their trip despite the real chances of being rejected at Gunji (height 3160 metres),  where repeat tests were scheduled before the final crossing over to Tibet. We were now down to forty including our Liaison Officer (LO) Amit Goel. The Group now consisted of three 70-year-olds, a few above 60 and the majority between 30 to 40. Ekta the youngest was 23 years old while Shweta a software engineer at Cisco in Bangalore was 30. The 70-year-olds were amazing. Ram Prasad Bhandari had walked from Rishikesh to Kedarnath a distance of over 100 km.  68-year-old Parthasarathy was a repeat Yatri …he had already been to Kailash 8 times. He had never employed a porter or a pony. This was his ninth voyage. The LO during his briefing rightly stated that if the yatra was to be successful we would all now need to behave like one family, with the strong taking care of the week. To the group's credit that was exactly what it did during the next 25 days or so.
The next day during the final briefing at the Ministry of External Affairs we were warned about the perils of high altitude trekking and Chinese sensitivities. The Dokalam Plateau standoff was at its peak and little wonder then, we were more worried about the Chinese than the Himalayas. That evening there was a bhajan sandhya program and we were all set to leave the next morning.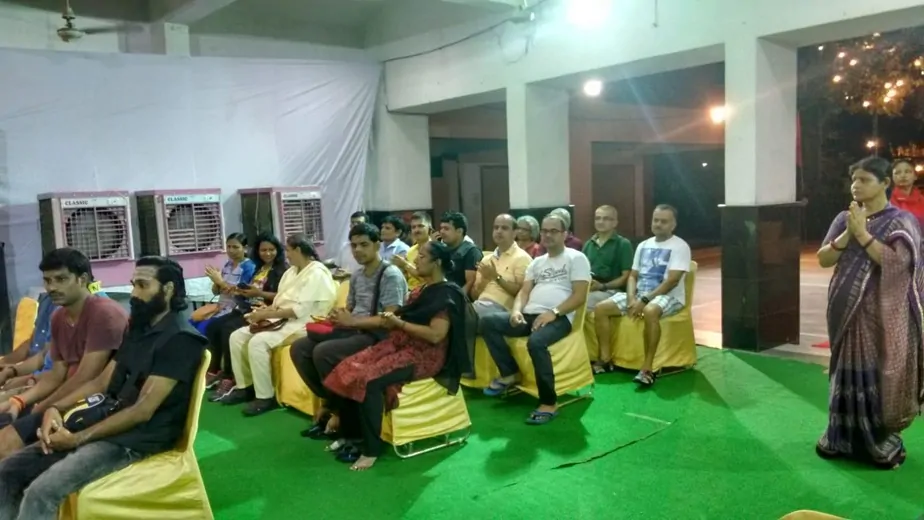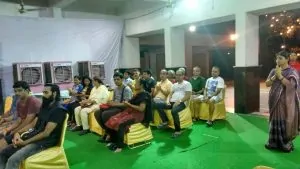 Meanwhile disturbing news was trickling in. Batch 16 that had left 4 days before us had been held up at Sirkha due to cloudburst at Malpa. There was a very real danger of the entire yatra being scrapped. Sure enough, we were told late at night that we would not leave the next morning. A high-level meeting was planned to be held at the MEA on 15 Aug despite being a national holiday where the final decision would be taken. Pilgrims had come from all over the country and even abroad. Jayan for instance, had resigned from his job in Saudi Arabia and was faced with the prospect of being jobless without having gone on the pilgrimage. Similarly, pilgrims like Abhishek and Sree Krishna who were employed in the private sector had very limited leave and were answerable to their bosses and faced the real threat of being fired. Others with their own businesses like Bharati Ben, Manikanda Murty, Mohan Raj had put their businesses on hold. It was time for prayers to begin and in true Indian tradition jugaad! Shailu from Nainital knew the MD, KMVN which organised the Yatra on the Indian Side. I pulled a few strings to get the District Magistrate Pithoragarh on board. The GSS was rife with rumours. Our beloved Doctor Nagashaynam was quite keen to return to Bangalore as his patients missed him.
God must have been confused…. the pilgrims were very keen on continuing their journey while their loved ones were just as keen that it be scrapped since there was a very real danger of the situation worsening due to the possibility of flash floods as in 2013 when the entire Yatra had to be abandoned. Finally, the pilgrims won …… a decision was taken that helilift would be organised wherever trekking was not possible. With this, we were all set to go!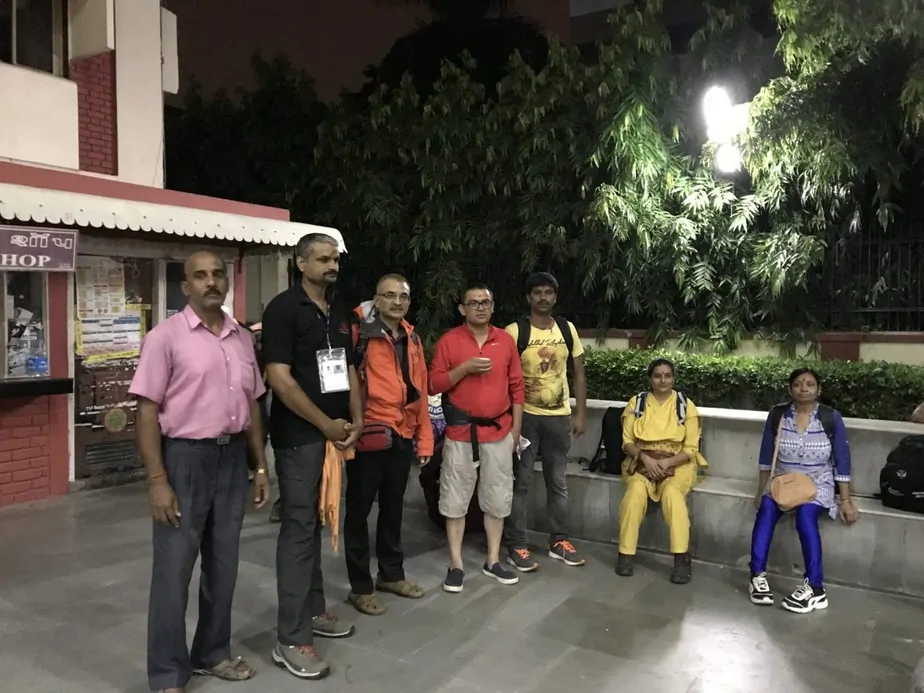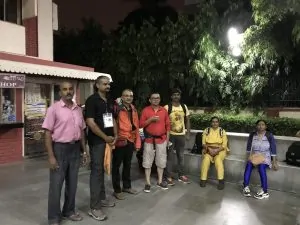 Sojourn through Kumaon Hills
Once we left Delhi we were in the competent hands of the Kumaon Mandal Vikas Nigam (KMVN) who had a mighty job on their hands since the entire schedule had been disrupted. Batch 16 had to be retrieved from Sirkha where the bridge at Malpa had been washed away. Batches 14 onwards would now have to be helilifted from  Budhi to Dharchula on their return journey and Batch 16 onwards would have to be helilifted both for onward and return journeys. Apart from this, the civil population in these villages was severely affected due to the disruption of logistics. For instance, all the porters and ponies were now stranded on the other side of Malpa and could not return to their home base Dharchula. Malpa incidentally was the site where Protima Bedi had lost her life during the Kailash Yatra in 1998 after a landslide. Finally, the Chinese too needed to be taken on board since any change in schedule would necessitate changes in visa and arrangements on the Chinese side. This entire jigsaw puzzle had to be put in place by proactively anticipating and reacting to the situation. This was where our batch was lucky in having an extremely competent LO who was well aware of the nuances of helicopter operations in disaster relief situations. He immediately warned us that all heavy baggage would have to be shed in Dharchula and only up to 5.5 kgs could be carried by each pilgrim. This single decision proved to be extremely fortuitous in the circumstances.
However, there was still some time to go before we could expect to reach Dharchula for the helilift since each location had limited capacity to accommodate pilgrims. Our first halt was at Almora, a beautiful pine filled hill station created by the British as a satellite hill station to Nainital.
Selfie time at Almora
Baijnath Temple
The next day however instead of leaving for Dharchula we were diverted to Chaukori.  We passed through the Baijnath Temple at Bageshwar, an ancient temple which had the unique distinction of housing both a Shiva lingam and the statue of Parvati in the same sanctum santorum. A boulder in the temple has another unique attribute …. it can be lifted by nine persons using just one finger!
Boulder at Baijnath Temple Bageshwar
Since we reached Chaukori by Lunch, we had the whole afternoon free. Chaukori is another beautiful town at a height of 1650 metres. A few of us decided to explore the countryside and to begin exercising our limbs which would soon need to function at full tilt.
Trekking in Chaukori
KMVN Tourist Rest House Chaukori
The next day there was another change of plans. Helilift of Batch 16 from Dharchula could not be completed due to adverse weather. We were therefore forced to move to Didihat a few hours short of Dharchula. Here the baggage restrictions were stringently enforced by  Parthasarathy – a very wise measure indeed. Innumerable trips were made to the neighborhood grocer who obligingly provided his weighing scales. Gram by agonizing gram we shed all our excess baggage and our ideas of daily hygiene – henceforth we would function on just two pairs of clothes, two pairs of underclothes, a windcheater and a jacket. We would bathe only when there was hot water which was very rarely and clothes would be washed if we stayed longer than a night in any place. A fitting offering to the ascetic Shiva!
Fortunately for us, just as we reached Dharchula the next morning we received news that helilift operations were on and the LO efficiently ensured that the senior citizens and ladies were manifested on priority. By late evening we were all in Budhi. The first real test would begin the next morning – crossing the 3350 metre high Chialekh pass.  Due to the various issues involved, there were very few porters and ponies available. Again only senior citizens and a very few ladies could be accommodated. A steep ascent was followed by a rewarding view of the Garbyang Valley. There was further bad news ….. all of us would have to negotiate a landslide which had just occurred the previous night. Bholenath was turning out to be not so Bhola after all!
The mist covered Chialekh Pass
Negotiating a landslide in Garbyang with the help of SDRF
    Enroute we passed Batch 14 who were walking back after having successfully completed the visit. Some of them seemed much the worse for wear probably due to the excess baggage they were carrying and the deepening uncertainty. Finally we reached Garbhyang – a sinking village which boasts of many IAS and IPS officers. There were the most delicious apple trees here which the villagers kindly allowed us to have.
Garbhyang Village
By afternoon we were in Gunji (height 3150 metres) where we would have two nights of acclimatization and repeat medicals by the ITBP. The next morning we were put through the medicals with 13 of us  asked to again come back in the evening due to elevated blood pressure levels. BP upto 160 is acceptable in high altitude. These 13 were higher than this. By evening there was yet another change to our program. We would now be delayed by a further 3 days since Batch 16 was yet to cross over into China. This gave much-needed respite to the those who were afflicted by giving them a chance to recuperate. Meanwhile, under the aegis of KMVN a  home stay was organised at Nabhi, a village some 4 kms away from Gunji.  This would help us get to know the local culture and more importantly keep the worry warts occupied mentally and physically. In retrospect, this enforced stay of 3 days helped the entire batch to get fully acclimatized to the high altitude. Meanwhile, the Nabhi home stay proved very entertaining with song and dance and much merry making.
Home Stay at Nabhi
There was some disturbing news when we returned to Gunji. One of the members of Batch 16 had suffered a stroke at Navidhang our next destination. The ITBP doctors were, therefore, more rigorous in their testing. Finally, the day for our move dawned and by now all 40 had been certified fit for further travails. Navidhang at 4260 metres  was located some 18 kms away. Here we would get to rest for a few hours before leaving for Lipulekh pass at 2 AM.
Kalapani located halfway between Gunji and Navidhang is the source of the Kali River. The Kali temple at the site is truly a sight to behold.
The Source of the Kali Nadi
Kali Mandir at Kalapani
We reached Navidhang by 3 in the afternoon. It was vital that we reach the Lipulekh pass located at 5160 metres height by 6.30 AM since the Chinese authorities would not wait longer than that to escort us into their territory. Fortunately, for us, there was no batch waiting to cross over from the Chinese side so the timings could be some what more flexible.  Those who traveled by pony would have to be careful of hypothermia due to the intense cold and the biting winds at the top of the pass as they would have to wait longer than those who were walking up. Indeed Shweta who was inadequately covered up succumbed to a severe bout of shivering on the pass. Timely reaction from others helped her to recover. Fortunately for me,  I did not have to wait at all as I was walking up. Each step was an effort. They were already calling out my name when I reached the top of the pass. Hastily paying off my porter I rushed over to the Chinese side. We could see the buses parked some 500 metres below.  It was the morning of 26 Aug some 13 days after we had all met in Delhi. We were finally in China!
….. To be Continued